Discipline May Be the Best Defence
FOR CLIENTS
While investing in the stock market is typically a sensible choice for investors seeking long-term growth, sharp drops can still be hard to stomach.
Below are some things to keep in mind if a market tumble makes you feel the need to "do something."
Downturns aren't rare events
The average investor will experience many bear markets during their investment lifetime. A bear market is defined as a market decline of 20% or more that lasts at least two months.
Since 1980 there have been: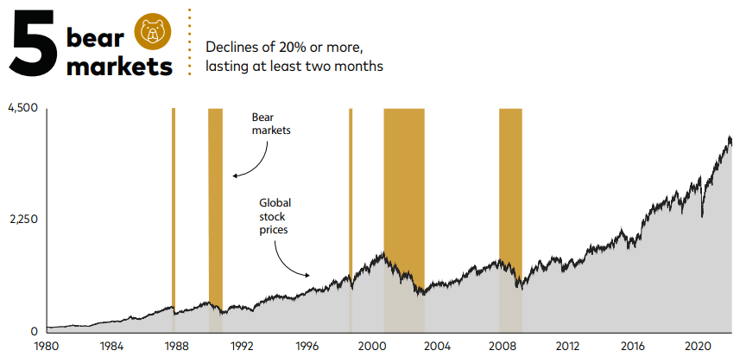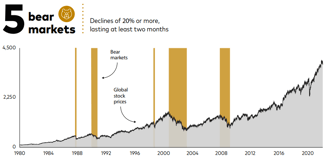 SOURCE: Vanguard analysis as at 31 December 2021, based on the MSCI World Index from 1 January 1980 until 31 December 1987, and the MSCI AC World Index thereafter.
TIME IN the market vs TIMING the market
If you attempt to time the market, you risk missing the best-performing days.
After all, market timing necessitates two correct decisions: when to exit and when to re-enter. It's a 50/50 chance of getting it right once. Correctly guessing twice reduces the odds to 25%. With one incorrect guess, you shoot yourself in one foot; with two incorrect guesses, you shoot yourself in both feet.
Moreover, the best and worst trading days frequently occur close together, regardless of the overall market performance for the year.


SOURCE: Data from Refinitiv using the FTSE All Share Index. Data between 1 January 1985 and 19 January 2022.
Staying the course pays off
It is critical to concentrate on the aspects of your investing strategy that you can influence. Therefore, try to avoid worrying about things over which you have no control, such as market and economic downturns.
Concentrating on the factors under your control can help you stay the course and benefit from the long-term compounding of stock market.
And while bearish market conditions are unavoidable, history teaches us that they do not last forever. As a savvy investor, you can ignore short-term market pullbacks (and any commentary that might cause you to veer off course) and stay focused on your long-term goals.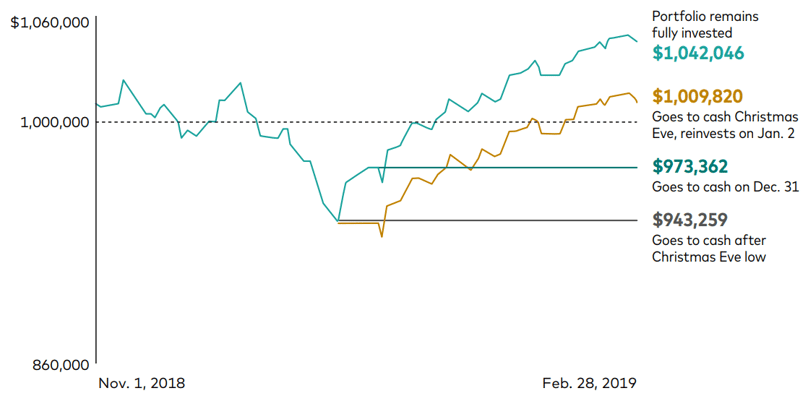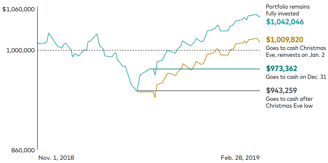 SOURCE: Data from FactSet between 1 November 2018 and 28 February 2019.
When volatility hits...
Tune out the market noise. There's an old adage about never checking your investment account when the market is down. It's sound advice. As the graphs above demonstrate, making a hasty decision almost always results in a mistake.
Revisit your asset allocation. If market corrections are keeping you awake at night, it may be time to reconsider your risk tolerance.
Stay diversified. Investing in a diverse range of stocks, bonds, and international markets as part of an asset allocation strategy that makes sense for your risk tolerance and goals is an excellent way to insulate your portfolio. During a downturn, exposure to diverse asset classes can provide you with access to markets that may perform well when others are struggling.
Economic downturns come and go. A well-designed and faithfully followed financial plan should provide you with excellent results from your investment portfolio for many years to come.
Following these simple steps can help you avoid reacting too quickly to short-term downturns and position yourself for long-term success.
Amyr Rocha Lima, CFP® is a financial planner who specialises in working with successful professionals age 50+ to help them reduce taxes, invest smarter and retire on their terms.
"Amyr has been excellent in cutting through all the noise and simplifying our decision making for our future retirement plans."
Alexander Butt
(Head of Risk Management, Heathrow Airport)
*****
"Amyr has been a huge help to my wife and I in providing much needed reassurance in relation to our financial planning. For honest, high integrity financial advice, I strongly recommend him."
William Baker
(Merit Researcher, Royal Botanic Gardens)
*****
"I found the whole financial planning process an informative, enlightening and pleasant experience, and I would like to thank Amyr for his efforts"
Martin Bulmer
(Professor of Sociology, University of Surrey)
*****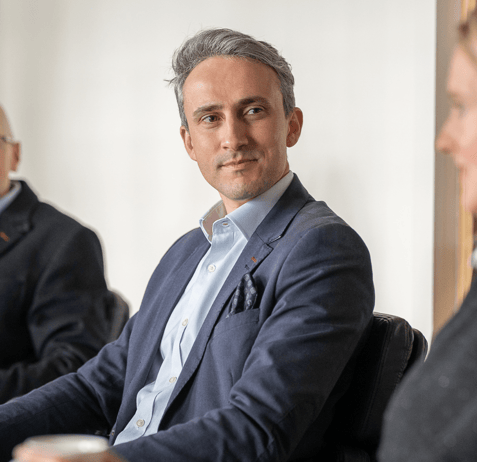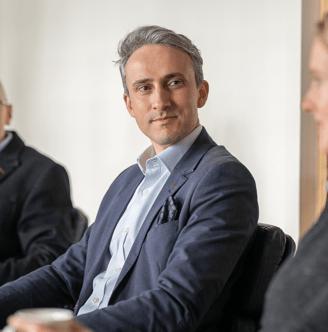 Ready to start building your financial plan?
Then you can book a free, no obligation call with me.
We'll have an initial conversation to better understand your requirements and to see whether my services would be a good fit.