Interest Rates and Stock Market Returns
FOR CLIENTS
Should stock market investors be concerned about changes in interest rates?
Research shows that, like stock prices, changes in interest rates and bond prices are unpredictable. It therefore follows that an investment strategy based on trying to predict these types of changes cannot be a fruitful endeavour. However, despite the unpredictable nature of interest rate changes, investors may still wonder what will happen to stocks when interest rates rise.
Unlike bond prices, which tend to fall when yields rise, stock prices can rise or fall with changes in interest rates. This is because the price of a stock depends on both future cash flows to investors AND the discount rate they apply to those expected cash flows.
When interest rates rise, the discount rate may increase, which in turn may cause a stock's price to fall. However, it is also possible that when interest rates change, expectations about the future cash flows expected from holding the stock will also change.
So, if theory doesn't tell us what the overall effect should be, the next question is: what does the data say?
Research by Dimensional Fund Advisors helps provide insight into this question. The research examines the correlation between monthly U.S. stock returns and changes in interest rates. As you can see in the graph below, while stock returns are quite "noisy", with no clear pattern, not much of that variation appears to be related to changes in the effective federal funds rate.
Monthly US Stock Returns against Monthly Changes in Effective Federal Funds Rate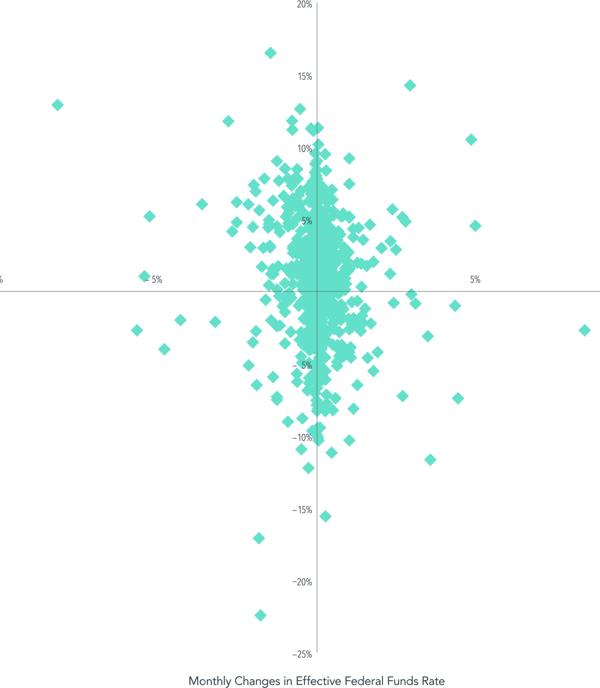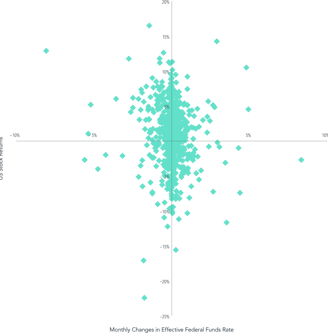 For example, in months when the federal funds rate rose, stock returns were as low as −15.56% and as high as 14.27%. In months when the federal funds rate fell, returns ranged from −22.41% to 16.52%.
So, when interest rates go up, do stock prices go down?
The answer is yes, but only about 40% of the time. In the remaining 60% of the time, stock market returns were positive. Interestingly, this split between positive and negative returns is the same when examining all months, not just those in which rates rose. In other words, there is no clear link between stock returns and changes in interest rates.
In summary, there is no evidence that investors can reliably predict changes in interest rates. And even with full knowledge of what will happen with future changes in interest rates, this information provides little guidance on subsequent stock market returns.
Instead, stay invested and avoid the temptation to make changes in your investment portfolio based on short-term predictions. After all, it is your investor behaviour that increases your chances of consistently getting the returns that the stock market has to offer.
Amyr Rocha Lima, CFP® is a financial planner who specialises in working with successful professionals age 50+ to help them reduce taxes, invest smarter and retire on their terms.
"Amyr has provided me with objective and impartial advice when reviewing my financial plan and objectives. Amyr has excellent technical knowledge and, more importantly, he delivers his advice clearly and in a way that helps you decide your next steps."
Paul Dawson
(Senior Risk and Compliance Officer - Metlife)
*****
"I appreciated Amyr's friendly, relaxed and helpful manner and, even more, his highly professional approach. He soon understood my financial situation and what I was looking for. The financial plan he proposed met my requirements. I have every confidence we will have a good working relationship in the years ahead."
Louise Anstead
(London Stock Exchange)
*****
"After trying several IFAs who did not 'cut the mustard' I was lucky enough to find Amyr. He has been exemplary in his dealings with me. He is very professional, knowledgeable, honest, friendly, and (most important to me) someone I know that I can trust with my financial affairs."
Dominic Cortizo
(Certification Specialist - Civil Aviation Authority)
*****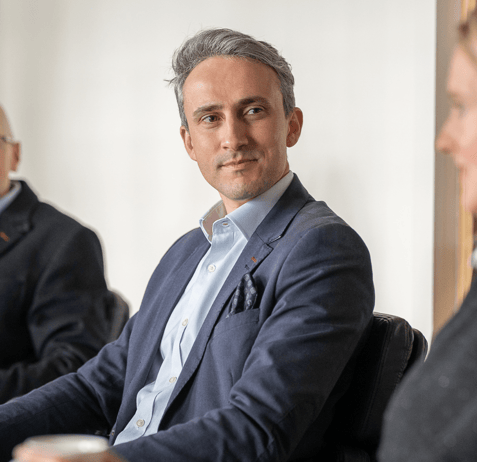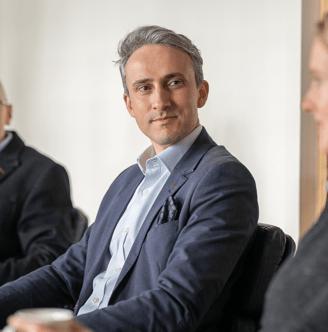 Ready to start building your financial plan?
Then you can book a free, no obligation call with me.
We'll have an initial conversation to better understand your requirements and to see whether my services would be a good fit.