The Bumpy Road to the Market's Long-Term Average
FOR CLIENTS
Once in a rare while, there comes a year in the economy and stock markets that serves as a master class in the principles of successful long-term, goal-focused, planning-driven investing. And 2020 was certainly one of them.
Volatile stock markets can be stressful for investors. But volatility also can be viewed in a more positive light. After all, rapid price changes show that world's stock markets are working as they quickly incorporate new information. Once you accept that markets work and prices reflect available information, you can take a long-term view of investing and tuning out the daily noise.
With this in mind, there has never been a simpler, more compelling one-page insight into the true nature of volatility than Dimensional Fund Advisor's The Bumpy Road to the Market's Long-Term Average.
I've said this before in these blogs, but its worth repeating it: volatility properly understood refers to the random distribution of ups and downs around a relentlessly upward-sloping long-term trend line. The details as Dimensional Fund Advisors distills them:
Since 1926, the US stock market has rewarded investors with an average annual return of about 10%. But it's important to remember that returns in any given year may be sky-high, extremely poor, or somewhere in between.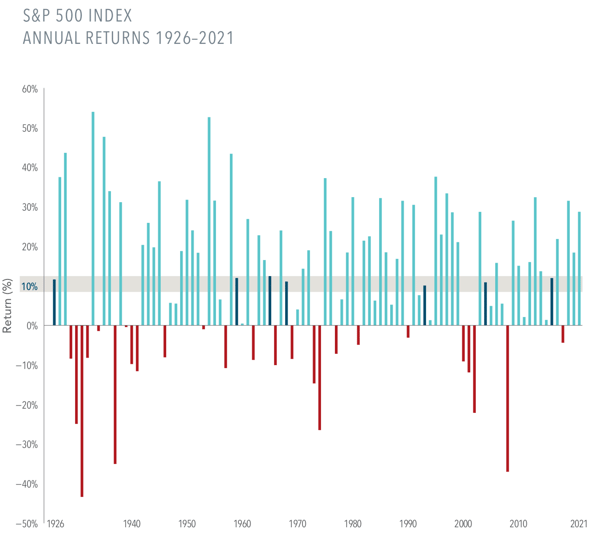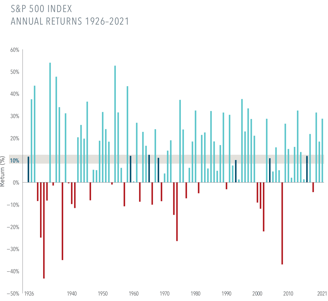 The graph above shows us that, since 1926, annual returns came within two percentage points of the stock market's long-term average of 10% in just seven of the past 96 years. Yearly returns have ranged as high as up 54% and as low as down -43%, and annual returns have been positive 71 times and negative 25 times.
Understanding the range of potential outcomes can help you stick with your financial plan and ride out the inevitable ups and downs.
Building wealth has no shortcuts. Success requires a solid investment approach, a long-term historical perspective, and discipline to stay the course. Instead of leaving your financial future to chance, you need to have a plan.
Amyr Rocha Lima, CFP® is a financial planner who specialises in working with successful professionals age 50+ to help them reduce taxes, invest smarter and retire on their terms.
"Amyr has provided me with objective and impartial advice when reviewing my financial plan and objectives. Amyr has excellent technical knowledge and, more importantly, he delivers his advice clearly and in a way that helps you decide your next steps."
Paul Dawson
(Senior Risk and Compliance Officer - Metlife)
*****
"I appreciated Amyr's friendly, relaxed and helpful manner and, even more, his highly professional approach. He soon understood my financial situation and what I was looking for. The financial plan he proposed met my requirements. I have every confidence we will have a good working relationship in the years ahead."
Louise Anstead
(London Stock Exchange)
*****
"After trying several IFAs who did not 'cut the mustard' I was lucky enough to find Amyr. He has been exemplary in his dealings with me. He is very professional, knowledgeable, honest, friendly, and (most important to me) someone I know that I can trust with my financial affairs."
Dominic Cortizo
(Certification Specialist - Civil Aviation Authority)
*****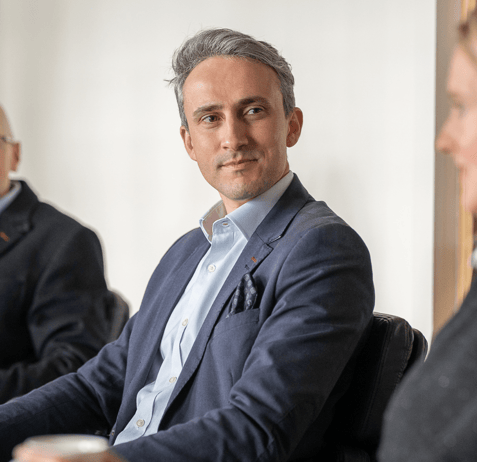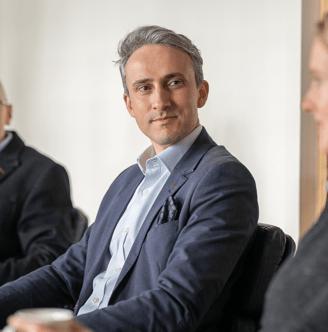 Ready to start building your financial plan?
Then you can book a free, no obligation call with me.
We'll have an initial conversation to better understand your requirements and to see whether my services would be a good fit.